Electric cars offer plenty of benefits. Efficiency, instantaneous torque, and zero tailpipe emissions are just a few advantages you'll see. We want to New Orleans and Metairie shoppers a look at two electric luxury SUVs: the 2019 Jaguar I-PACE vs. Audi e-tron.

Both are on the leading edge of innovative-so which is ideal for you? In this car comparison, our team at Jaguar New Orleans will give you the information you need to decide! Reach out to us if you want to learn more.
2019 I-PACE vs e-tron: An Electrifying Performance   

You'll never need to compromise on performance in the 2019 I-PACE or e-tron. These SUVs boast some impressive ranges: The e-tron can go up to 204 miles on a single charge-way more than enough for the average daily commute. The I-PACE will take you even farther, with a range of up to 234 miles.
Outputs for these crossovers are outstanding, with dual electric motors offering roughly 400 horsepower in both. In the e-tron, that's enough to boost you from 0 to 60 MPH in just 5.5 seconds. The I-PACE is even lighter on its feet and can make the 0-to-60-MPH jump in a mere 4.5 seconds!
You can always count on traction on those wet coastal roads. The I-PACE and e-tron both come standard with all-wheel drive (AWD) for surer footing in any situation.
Luxury SUV Interior: Space & Style
 Wherever your adventures take you, you'll want an SUV that's as versatile as you are. In many ways, the Jaguar I-PACE and Audi e-tron rise to the challenge. Both provide more than 25 cubic feet of cargo space behind the rear seats. You'll easily find room for your whole family's gear, no matter what adventure lies ahead.

The I-PACE adds another handy storage option you won't find in the e-tron: a compartment located under the hood! It's large enough to hold a grocery bag or two. Because there's no engine under the hood, there was room to spare-and Jaguar engineers put it to good use.
In the cabins themselves, plush leather seats can add a touch of true luxury to your drive. Relax with lots of legroom and enjoy your ride to the fullest!
Advanced Technology on the Go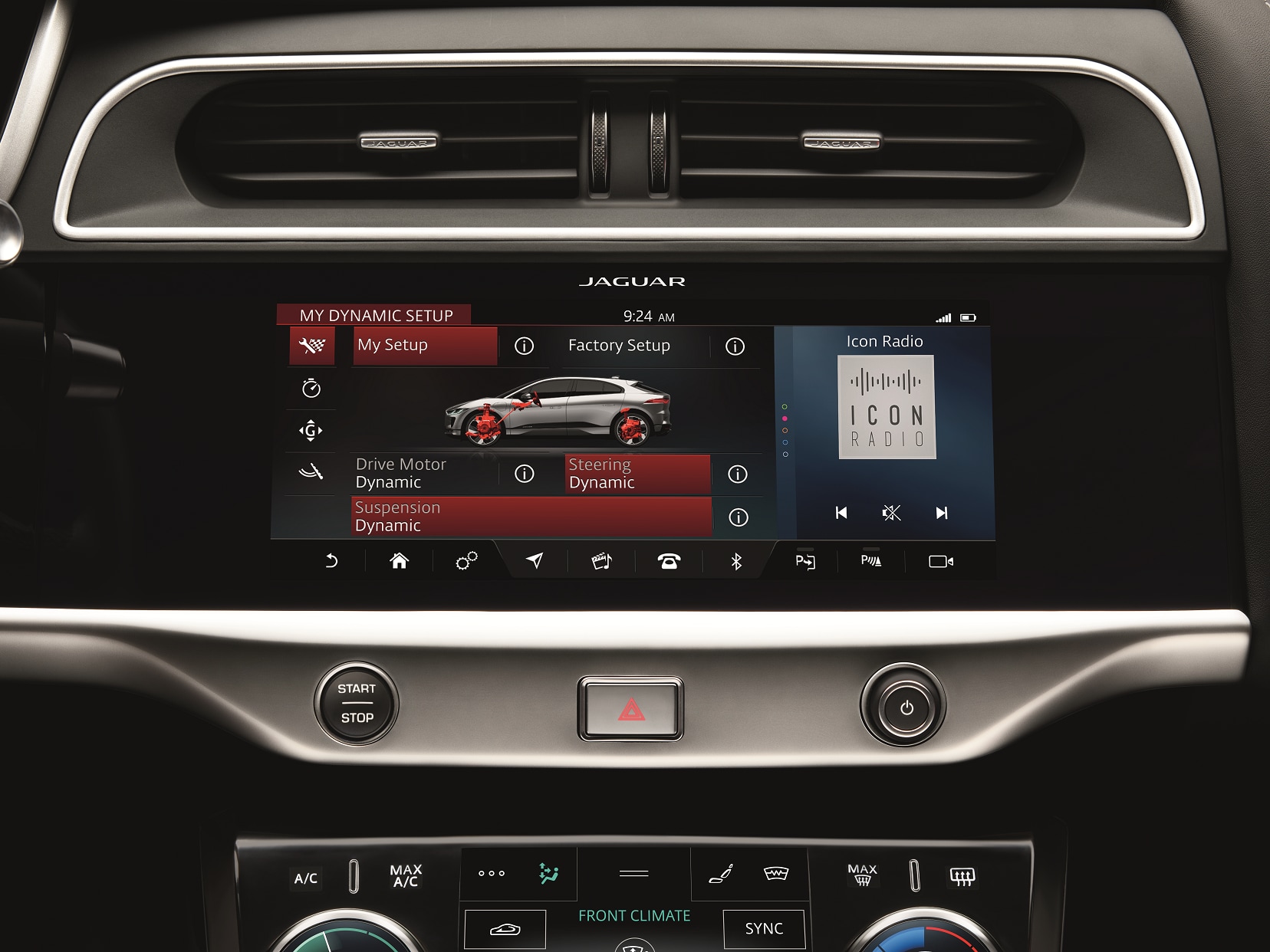 The 2019 I-PACE and e-tron are true technology titans. Each comes equipped with versatile infotainment systems. Whether you have InControl® Touch Pro™ Duo in the Jaguar or MMI® in the Audi, you can control all sorts of functions. Find navigation maps, connect your smartphone, and more!

These two SUVs also offer available digital instrument panels. They put the most important information in your line of sight. Plus, with premium sound systems available in both rides, you can transform the SUV into your own personal concert hall.
The Jaguar I-PACE comes standard with a fixed panoramic sunroof. You can let the sun shine in and make the cabin feel airy and spacious! While a panoramic roof is available on the Audi e-tron, you won't find it on the base trim, unfortunately.
2019 Jaguar I-PACE vs Audi e-tron: The Verdict
Now that you've had a chance to explore the 2019 Jaguar I-PACE vs. Audi e-tron, what do you think? As many New Orleans and Metairie shoppers will tell you, these electric cars both have their merits.
However, if you want to reap the most exciting rewards in terms of range, performance, and technology, the I-PACE makes a strong case for itself. Schedule a test drive at Jaguar New Orleans and get in the driver's seat. See if this Jaguar luxury SUV is ideal for you!